After talking about it for ages, putting it off and changing our minds, we finally have a bit of colour on the walls here. It's nice to have something to break up the big blank spaces, especially knowing that they're both "original works".

The canvas print we ordered arrived last week. The lower right corner is a bit dark, but that's my fault for not setting up my monitor properly.

We have a bunch of photos that would look good on display, but didn't like any of the pre made photo frames that you can get, so we had one custom made. The photo doesn't do it justice, but the frame is matte black, with a canvas textured black photo mat with a white inner border. There's also a black mat without the border tucked away, so we can customise how it looks depending on what photo is in there. Wow, I didn't realise how boring that sounded until I read it again. I really need to get out more!
That said, something else I want to get done in the future is a set of four frames to hold some photos from my failed Monopoly™ project.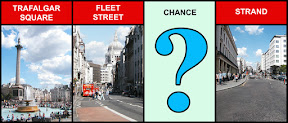 The original plan was to take photos of everything on the original Monopoly board and make my own board with photos. I managed to get about 9 pieces done before it was time to leave the country. Oh well.
Tune in next week for more exciting adventures.