Last week, I came across some great plans for a home arcade machine. This happened around the same time that I downloaded
MAME
and a bunch of old arcade games (Pacman, Streetfighter, Double Dragon etc). I figured that I need to have a project at home that doesn't involve beer, but does make me use my hands. Enter my Mame cabinet. It's essentially a computer set up to look like an arcade machine, except instead of just playing one game, it will be able to play ALL OF THEM.
This is close to what it's going to look like eventually: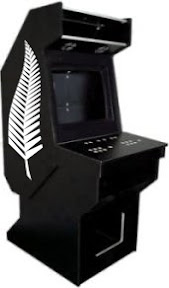 I'm going to make it a kiwi theme, and put the silver fern down the side along with some other stuff that I haven't thought of yet. Actually, hang on, I'll stick the fern on there now.
I knew that if I looked into this project too much, I'd be put off by either the cost or the time invoved, or the fact that I don't have a workshop, so I went out to a warehouse in the middle of nowhere on Saturday and put things in motion. A few hundred dollars later, I'm in possession of two joysticks, a few dozen buttons and a circuit board which is basically an interface for everything.
My toolbox currently consists of a set of screwdrivers and a pair of pliers that Dad gave me the last time they were here, a Leatherman™, an old hacksaw and a hammer. Not really a big enough range of gear to make something 6 feet tall out of wood. Unless it was popsicle sticks...
Anyway, I went to a hardware shop today to start buying a few extras. Not being a fan of cheap and nasty, I came away with a trade quality drill and jigsaw. I'm sure the old man will be happy knowing that I bought Makita and not some knock off.
The next part is to sit down and actually design everything. The last time I worked with wood, I think I made a hand mirror at school when I was 11, so i's going to be a pretty steep learning curve. Luckily we live in the age of Google, so whatever I don't t know today, I will know by this time tomorrow, in seven languages, one of them probably Klingon (groan).
I figured this blog (geez, I hate that word!) would be the best way for me to keep track of how long I'm taking, and what I was thinking at certain points along the way. Looking back, I'll be able to pinpoint the exact day that I lost the tip of my finger in a routing accident, and how happy Deb was that I managed to get black paint all over her azaleas.
It's going to be an interesting journey.