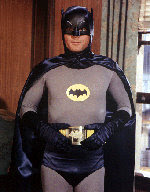 So, Hollywood has managed to surprise me. I thought being this old and jaded, I would be harder to impress than some really hard piece of hardened metal, but
Batman Begins
was actually a pretty cool movie.
Well, as cool as a movie can get when the main character flies around wearing black tights and a Halloween mask :)
The special effects aren't over the top, with the CGI effects blending in really well. The Batmobile is believable, it doesn't have big wobbly rubber wings and fins on it like the last few movies. It's also much shorter than the traditional Batmobile, which would make parallel parking a WHOLE lot easier. Especially when it doesn't have (bat)wing mirrors to look in.
I've read some people's reviews, saying that it's trying to take Batman away from the children, by giving it a dark side. Have you ever seen the comics? They're not drawn with fingerpaint and glitter, they're pretty damn dark themselves! Not exactly bedtime reading for the youngsters. I think people confuse Batman with that confused character that
Adam West
played back in the 60s. The way I see it, kids these days have everything handed to them, what with their Playstations and their fast food. Damn the kids and lets have some grown up action movies again. It's not like the little buggers pay for their Batman branded McDonalds happy meal THEMSELVES, so who gives a shit if the movie isn't suitable for them? They'd just run around the theatre anyway, or cry or poo in their nappies (as is my understanding of young people).
Kids have plenty to keep them occupied with movies like
Spongebob Squarepants
without making Batman into the 6th Mighty Morphin Power Ranger.
Verdict:
Katie Holmes has very perky nipples. And there's ninjas.